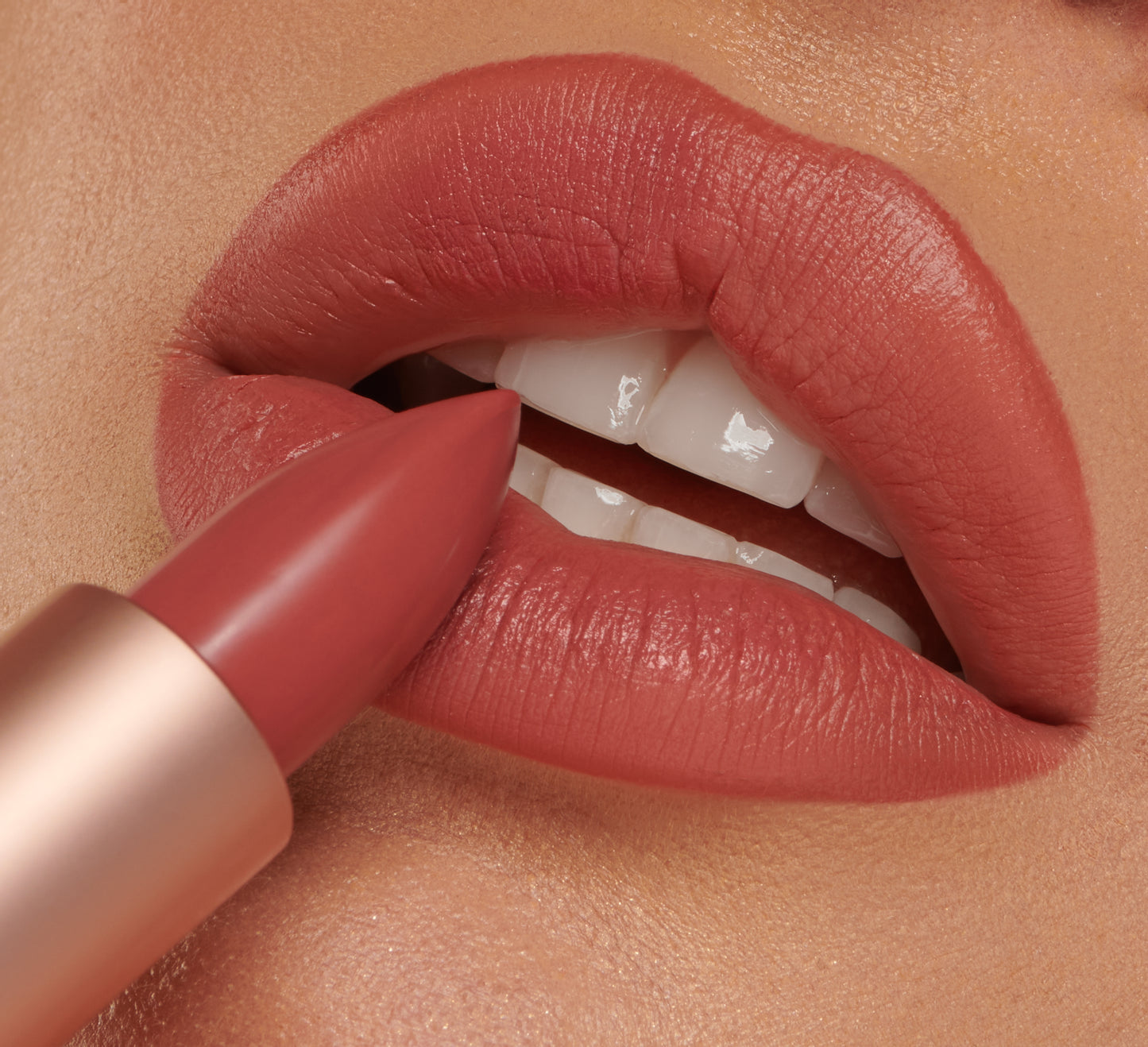 There is a whole lot of magic that surrounds the holiday season. It's always fun to add a little sparkle and feel festive during the holidays. Be fearless and go for that bold perfect shade of red lipstick and why not add a little sparkle to your eyes too. Anna Marti created this perfect lip trio that will make you feel and look fabulous on a festive night out regardless of the color you choose. Makeup trends and beauty products change often, however we are so sure that every girl will need one perfect Nude, one velvety mauve pink hue and of course the fire fierce and bold statement of the color Red. This trio is so universal and we think it's the easiest choice when it comes to choosing that one perfect shade.
Starting off with our LA PÉCHE, the velvet silk matte texture lipstick has an undertone of peachy nude, this color is universal and it will match with skin-tones from the lightest light to darkest dark. YES! Every girl feels like they need their barbie moment with their statement pink.
Then we have POSH PINK, the velvet silky matte texture lip color has an undertone of soft mauve pink hue with a hint of taupe, and Loved by Brides this color is perfect match with every skin-tone and it's such an easy color and perfect for any occasion.
There is no holiday makeup look without your rich bold shade of Red lipstick. Our very popular and a color that was inspired from rich and bold colors of pomegranate NOOR is your go to Red for this season. Noor is a true red with a blue undertone which means it will match every skin-tone. This unique color is very pigmented and all of our lip products are packed with delicious ingredients such as, Beeswax, caranuba oil, vitamin E and so much more.
Our products are Vegan and proudly made in the U.S. When it comes to packaging, our creator Anna Marti herself loves a beauty product that screams luxury. Rose gold silky and slim container is such a vibe and a bold statement. When a women takes a lipstick out of her bag, she should feel the power of luxury and quality. This exquisite lip trio is a perfect holiday gift for your beauty lovers. Long lasting high quality product that will make your holiday makeup look magical. Go on my beauty queens splurge on this amazing goodies and you will fall in love with.
Click Here to claim offer